On Saturday, January 30 the delegates from District 250 came together for the first Delegates meeting of the year. A few very special guests were present at that meeting; International President, Robert Martinez, GVP Ricky Wallace, and Canadian GVP Dave Ritchie. Ritchie discussed his upcoming retirement on April 30 and announced his successor, 692's own, Brother Stan Pickthall.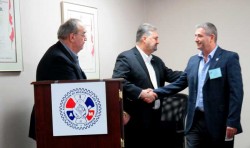 Pickthall started as a 692 member working for Finning in 1984. He became a Business Rep for District 250 in 1994 and elected Directing Business Rep in 2005. In 2013 he was appointed Chief of Staff. On May 1, 2016 he will take over the role as Canadian General Vice President.
Officers and Members of Local 692 wish GVP Dave Ritchie all the best in his retirement and Brother Stan Pickthall congratulations and all the best in his new upcoming role.
For more information click here